Hassle-Free Listing Program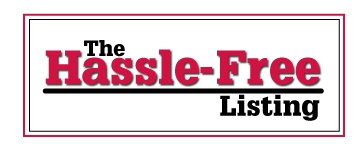 Put more money in your pocket with The Hassle Free Listing*, exclusively offered by The Mega Agent Real Estate Team. Most real estate brokers in Greater Birmingham, Alabama charge you the same fee no matter how your home or real estate sells...even if YOU find the buyer. With The Hassle-Free Listing you have complete flexibility ….... from "Full Service" to "Do It Yourself".
If the Owner elects to participate in The Mega Agent Team's Hassle-Free Listing Program, it includes a variable commission based on the following outcomes:
6% - Owner's property sells through a Buyer procured through the MLS. Another Agent represents the Buyer. * Applies to all homes with Final Sales Price of $100,000 or higher. There is a minimum sales commission for all homes under $100,000 of $6,000.

5% - Listing Agent procures the Buyer and writes the contract. There is no other Agent involved. Total commission to be 5%.

1% - Owner procures the Buyer and there is no other Agent involved. Listing Agent will write the contract, and process it through escrow for Owner. Total Commission to be 1%.

0% - You find the buyer and there is no other agent involved. You don't want our assistance. You pay nothing!
Cancellation Policy
Owner or Listing Agent may cancel the listing at anytime by simply calling and notifying the other party. The cancellation becomes effective from the time you call. However, allow two business days to have the sign removed and the listing withdrawn from the Multiple Listing Service.
If you are not happy at any time.... FIRE US & PAY NOTHING!
It takes a strong belief in the quality of ones service to make this kind of stand. But the Mega Team never settles for less than the highest standards from their agents and staff of real estate professionals. They are confident you will be be happy with their service and results. That is the simple truth!
* Applies to Single-Family Residential Homes Only and Requires a Signed Hassle-Free Listing Addendum / Agreement to be Executed Between Seller and Listing Agent.




Ready to Sell Yours Hassle-Free?