September Shows Continuing Increase in Demand
Posted by Hallie Underwood on Wednesday, October 17, 2018 at 12:15 PM
By Hallie Underwood / October 17, 2018
Comment
There were 1,458 closings reported for the month of September, according to figures provided by Greater Alabama Multiple Listing Service. This represents a 18.4 percent increase from the 1,231 closings reported for September 2017.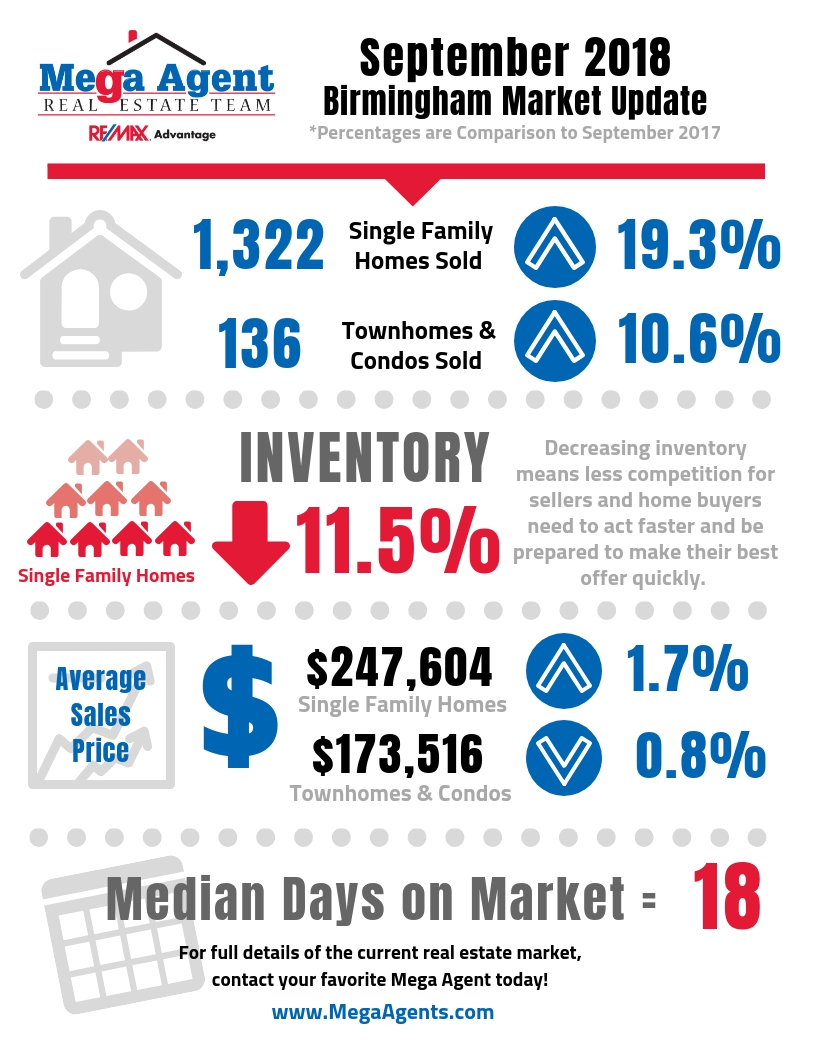 We are continuing to see an increase in demand seasonally in the market.
Year-to-date closings total 13,023 a 4.8 percent increase compared to the 12,425 closings reported through September 2017.

The trends are all continuing in a positive direction at this time, and we aren't seeing any indicators of a shift at this time in the market.
A comparison of sales by category for August is:
2017 2018
CLOSINGS 3,882 3,961
Residential 3,282 3,301
Condo/Townhome 410 438
Multi-Family 24 30
Farm/Land/Lots 167 192
The median residential price for a single-family home during September was $247,604 and for a condominium/townhouse it was $173,516. This compares with last year's median residential and condominium/townhouse prices of $248,808 and $178,249.onally in the market.
Active inventory at the end of August was 9,018, which decreased from 9,970 in 2017.
The current inventory of properties by category, compared to last year, is:

2017 2018
INVENTORY 9,970 9,018
Residential 6,233 8,677
Condo/Townhome 525 984
Multi-Family 86 95
Farms/Land/Lots 2,364 2,394

We are still in a seller's market in most areas of the Birmingham Real Estate Market.