13 Important Considerations When Buying Waterfront Property
Posted by Collier Swecker on Thursday, August 9, 2018 at 10:34 AM
By Collier Swecker / August 9, 2018
Comment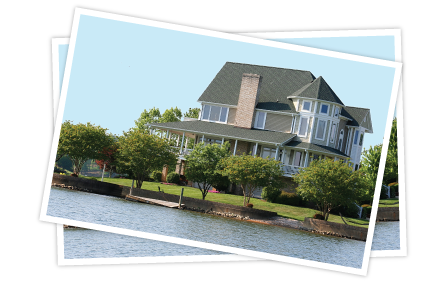 For many people, buying waterfront property is a real estate dream come true. It is a purchase that embodies a desired lifestyle. To live on the water. To live at the place that had previously only been part of always-too-short vacations. And as such it is more than a real estate investment.
Waterfront purchases are inherently different than others and often more complex. Because of this, potential buyers should be prepared to invest their time in research. And they should work with a knowledgeable waterfront real estate specialist who can help them make a wise investment, NOT an emotional one.
Here are 13 things to consider when buying waterfront property in the Birmingham area.
1. The Land: More than the home itself, the land in a waterfront purchase is what is important. Waterfront land is limited and therefore the principals of supply and demand come into play. This can cause the ratio of land value to total property value to be much higher with waterfront property. And this leads to a conversation with your lender to discuss the impact to your mortgage guidelines. Obtaining a survey is also an excellent idea.
2. Restrictions: Imagine purchasing your dream home on the water and then not being able to use your boat or build a pier. Before you buy, learn about any restrictions that affect the shoreline and the water. Ask if there are requirements for piers, docks, or bulkheads, and if certain types of watercraft are restricted. Don't forget to find out if the purchase includes the shoreline and if there are any easements which would give others access through your property. Often the Home Owners Association (if there is one) or the Neighborhood Covenants and Restrictions recorded with the County is the best place to start your investigation about restrictions.
3. Insurance: From flooding to wind damage, do your homework and learn about the different types of insurance policies so that you can make sure you are fully covered. It can be complicated and you need reliable advice from a trusted insurance agent who is familiar with insuring waterfront houses.
4. The Elements: Waterfront property is subject to more damage from the elements. As such it can require more maintenance and repair. If possible, talk with neighbors and area "insiders" to learn about their experiences.
5. Erosion: Over time you could actually lose land on the waterfront due to erosion. Is the shoreline secured with an adequate bulkhead? If so, consider having the bulkhead inspected as part of your evaluation of the land.
6. Views Versus Fun: How do you want to enjoy your waterfront home? Are you the type to sit quietly and appreciate the amazing views and nature? Or do you prefer to swim, boat, and play in your waterfront paradise? Ask these questions of yourself before you buy.
7. The Views: Both inside the home and outside the home, consider the views. In the home, are there good views of the water? Outside, what about trees? If you wanted to remove some trees to gain better views, is that allowed?
8. Orientation: The sun rises in the east and sets in the west. Is the home and property situated in a way to take advantage of these desirable views? Can you enjoy your morning coffee while taking in the sunrise from the deck? If you will be building on the land, consider the topography, the slope, the soil, the ability to install a septic system. Having a qualified builder survey the land before your purchase can help you answer these questions.
9. Water depth: Purchasing waterfront real estate is obviously appealing to boaters. And not all waterfront property is equal when you consider the navigational needs. As you consider the property, learn about the water depth and any seasonal variations that could impact your ability to use your boat.
10. Ease of Use: Having adequate water depth is one thing. Knowing that you can actually navigate to your desired locations is another. Before making a purchase it is important to be on the water and to see firsthand if you are able to reach the best fishing spots or other desired boating locations from your property.
11. Swimming: On a hot summer day nothing is better than jumping into the water. Is your potential purchase well-suited for swimming? How will you access the water? Is there a dock or a sandy beach?
12. Utilities: In the more rural areas you may find that a lot of your city-life conveniences are not readily available. Find out about electricity, clean water, sewage / septic system, cable and internet utilities as part of your due diligence process.
13. What's Up Stream?: Remember to research and ask about the land use and any development up-stream or up-river from your land. Make sure there are no environmental concerns that may impair your use of your land or some activity that will devalue your land.
All of these points are to emphasis the importance of researching before you buy. Don't let the initial wow factor and emotional pull of a waterfront home lead to an impulse decision. Do your homework. Decide what features are most important to you. Talk to neighbors. Talk to experts. Talk to the County. The more you learn, the better decision you can make. Plus, the happier you'll be when you find the waterfront home of your dreams.
Contact us for more information about purchasing a waterfront home.